Poems from the Blue Ridge
by Alexander H. ter Weele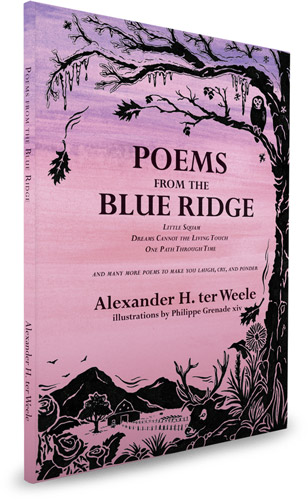 "Poems from the Blue Ridge" is a change of pace for the author of "We Escaped: A Family's Flight from Holland during World War Two." This time it's a volume of poems, verses that can be whimsical at first glance and thought-provoking on further reflection, and a few that are downright disturbing.
Poems from the Blue Ridge can be read by the lighthearted side of your brain or explored by the profound thinker in your psyche. The illustrations can be equally amusing or upsetting, depending on the reader's interpretation. There are poems for the child in your heart and for the scholar in your intellect.
Love, life, death, nature--these eternal themes are scattered through the pages. "Little Squam," an ode to a particularly beautiful lake in New Hampshire. "Dreams Cannot the Living Touch," a delicate description of the ethereal. "One Path through Time," as good as (better than?) Robert Frost's "The Road Not Taken." Poems to read and then to reread. A small book stuffed with joy and packed with meaning.
Poems from the Blue Ridge is a work of art. Indeed, two works of art in a single volume. On the one hand, a compendium of poems--inspiring poems, complex poems, playful poems--and on the other hand, a collection of sketches--inspiring sketches, complex sketches, playful sketches. The reader will return to these pages time and again to contemplate the art of the writen word and to appreciate the art of illustration. Skim through a few pages. You will immediately wish to own this book!
Where to Buy
Book Details
Hardcover Edition
104 pages
Publisher: Piscataqua Press
Language: English
ISBN-10: 1944393390
ISBN-13: 978-1944393397
Dimensions: 6 x 0.4 x 9 inches