Sir Alex Talks Soccer
by Alexander H. ter Weele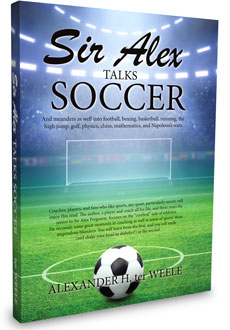 Love sports? If so, you'll love this book! It offers great insight into "the brains behind the ball."
Sure, soccer afficionados will read this book with excitement. But those who enjoy sports, any sport, will also find the read enjoyable—and instructive! Coaches will be reminded of numerous coaching tactics they have long known and find new, valuable tips. Players will boost their contributions to their teams as coaches' game strategies become clearer to them. And fans will further their appreciation of the games they watch by deepening their understanding of how the minds of coaches and players work and what the teams are striving to accomplish. Various sections, such as "Understanding the Field," apply not only to the soccer pitch but to field hockey, water polo, football, basketball, lacrosse—even to chess and war! Best of all, these lessons are wound into meanderings both amusing and insightful, into examples of ingenious coaching, and, of course, examples of some of the stupidest, most boneheaded decisions coaches have ever made. What better than to learn and laugh at the same time!
This special edition includes an appendix with a blow-by-blow account of the KRHS boys soccer team's run for a State Championship.
Where to Buy